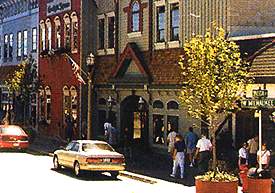 With thousands of lakes dotting the landscape and a vacation area wedged in between two national forests, the intrinsic beauty of the Lakeland Area surround Timber Ridge and the city of Minocqua is unmatched.
Here there's something to do all year round. Of course, the premium golf weather is during the summer months when our course is in peak condition and visitors from all over the United States experience the challenge and beauty of Timber Ridge.
But there are so many other forms of fun here that you'll want to bring the whole family and make a vacation. Water skiing, swimming, boating, hiking, biking, canoeing and kayaking – they are all part of the summertime menu here.
With so many accessible lakes, you can bring your own boat or hire a guide and head out for the day. There are even a couple of sandy beaches at Torpy Park in downtown Minocqua and Brandy Park in Arbor Vitae/Woodruff, both with full time lifeguards on duty from June through September. Great for the kids.
To the north is the Northern Highland-American Legion State Forest, home to more than 130 species of birds, 27 species of reptiles and amphibians and 63 species of fish. In nearby Vilas and Oneida County, there are five known timber wolf packs. To the west is the Chequamegan National Forest with many recreational opportunities.
Many of the remote wilderness lake areas here remain a throwback to former eras, with untouched shorelines and 11 areas used for nature and educational purposes by the State of Wisconsin. Forty-five of the lakes are undeveloped, but have road access and offer the perfect remote setting for recreation.
September brings the fall colors and another set of tourists who enjoy seeing the change of seasons. From the last two weeks of September to the first two in October, we are all aglow in a blaze of orange, it will make you want to return again and again.
The arrival of winter brings a new list of recreational activities to the area, along with frozen lakes with the average area snowfall of 65 inches. You can experience the best of downhill and cross-country skiing, ice fishing, ice skating, sledding, snowshoeing, sleigh riding and more.