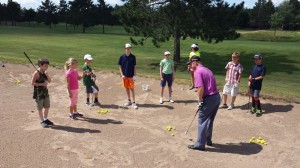 The Junior Golf Program at Timber Ridge emphasizes the "fundamentals" of golf. The focus of this program is to teach each junior golfer at his/her own level of experience.
Each golfer will receive the basics of a good set up that will lead to improvement in all areas of the game. Junior golfers will also leave with a better understanding of the golf swing so future improvement will be much easier to attain. Other areas of focus will be on the Etiquette and Rules of Golf.
Please contact the golf shop for more information and to sign up at (715) 356-9502. Equipment will be provided if needed. Lunch will be provided following golf.
2023 Junior Golf Classes (3 day sessions)
$65 per student
10am to 12pm, Lunch at 12pm
June 13,14,15
July 11,12,13
August 15,16,17